| | |
| --- | --- |
| Original Title | 야인시대 |
| Format | PC |
| Genre | Action |
| Developer | Joymax |
| Official Website | Here |
Yain Sidae (the official English title seems to be "Age of Wanderers") is a side-scrolling beat 'em up based on the Korean TV drama of the same name.
Set in the early part of the 20th century when Korea was under Japanese rule, the game (and TV series) is loosely based on the life of Kim Doo Han, a real Korean gang member (and later politician) of the time. Because of this the setting is more realistic than most beat 'em ups, focusing on Korean street scenes and having you square up to thugs and Japanese military personnel.
Controls are straightforward with only two buttons used to jump and attack. It's also possible to run (attacking whilst running performs a slide attack) by double tapping in either direction and to perform a Final Fight style crowd control move that drains a portion of your energy bar by pressing both buttons together.
Packaging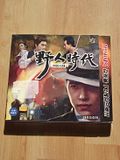 Screenshots