| | |
| --- | --- |
| Original Title | 仙劍奇俠傳二 |
| Format | PC |
| Genre | RPG |
| Developer | Softstar |
| Official Website | Here |
Xian Jian 2 is set eight years after the end of the
original game
and shares several characters and locations with it. The lead this time is Wang Xiao Hu, a young boy during the events of Xian Jian 1 who grew up idolising Li Xiao Yao. During the game he teams up with Su Mei (the daughter of a snake and a fox spirit), Li Yi Ru (Li Xiao Yao's daughter) and Qi Qi (a member of the Xian Xia Five).
The gameplay is very similar to the first, although the dungeon layout has been simplified somewhat and the previous game's co-op attacks have been replaced with individual character skill lists. Battles are much faster too due to concurrent actions (the game is still turn based however) and the ability to occasionally counter an enemies attack.
The game had both a mainland China and Taiwanese/Hong Kong release on PC; it has to date had no other translations or ports (official or otherwise).
Packaging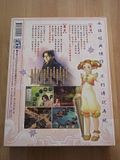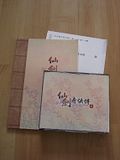 Screenshots