Original Title

With You
~みつめていたい~

Format

Wonderswan Colour

Genre

Adventure

Developer

Cocktail Soft

Official Website

Here
Cocktail Soft have been producing adventure games since the MSX/PC-98 days, and With You is no exception to their established formula. The game stars you as Itou Masaki (renameable should you wish to), working your way through a summer of school, girls, and mildly mystical adventure. As well as this Wonderswan port the game was also released on the PS1 and Saturn – all of the ports have the adult content removed so that the game receives an "all ages" rating.
Anyone who's played a visual novel before will be comfortable with the options here – dialogue can be set to auto-advance until the next dialogue choice, and there's a sound test and a CG viewer, allowing you to view any event artwork you come across during the game. The pendant in the top left corner of the screen changes colour depending on which of the two main girls your actions currently favour, apparently With You was the first (or one of the first) game to introduce this system.
While this port is naturally missing the spoken dialogue of its CD counterparts everything else appears to be intact bar a reduction in colour and resolution of the artwork.
Packaging (Mouseover for further details)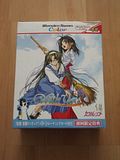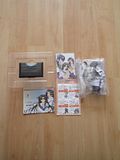 Screenshots