| | |
| --- | --- |
| Original Title | ヴィクセン357 |
| Format | Mega Drive |
| Genre | RPG |
| Developer | Masaya |
| Official Website | N/A |
Vixen 357 is a sequel to the PC Engine mech SRPG Hisou Kihei X Serd, and like that game it shares many similarities with Masaya's more popular series Langrisser. Everything is played out on gridlined maps with each team (and occasionally NPC's) taking turns to attack; when attacked the view switches from the standard overhead to a more detailed side shot of the action. These sequences are fairly detailed for the time, with the scenes altering depending on both the terrain and the type of attack launched.
No further games were produced in this series, possibly due to the poor response from Japanese players to the game (if my Googling of Japanese reviews is anything to go by).
Packaging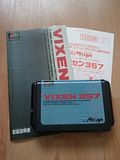 Screenshots