Original Title

吞食天地3
三国外传

Format

Mega Drive

Genre

Fighting

Developer

Unknown

Official Website

N/A
Tun Shi Tian De 3, which also seems to want to be known as Chinese Fighter and Tenchi wo Kurau 3, is a one-on-one beat 'em up by an unknown developer (developer information isn't even available on Chinese websites). The vast majority of the spritework and sound effects in the game are ripped directly from Capcom's Tenchi wo Kurau 2 (AKA Warriors of Fate) side-scrolling arcade game, with miscellaneous effects being stolen from other Capcom games of the same era.
There are eight characters to pick from in total, covering classic Three Kingdoms characters like Lu Bu, Guan Yu and Zhang Fei. Special moves are performed in the typical fighter way – quarter circles and so on. The bar at the bottom of the screen builds up as blows are exchanged and allows the use of super moves, complete with stolen (Street Fighter Alpha) effects. The game can be played alone or against a human opponent. Once all the characters have been defeated in the single player mode a generic ending screen is displayed.
The packaging below is bootleg and should be considered nothing more than a curiousity.
Packaging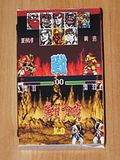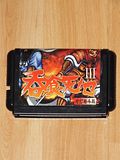 Screenshots