Original Title

テトリス
武闘外伝

Format

Super Famicom

Genre

Puzzle

Developer

Bullet Proof
Software

Official Website

N/A
Tetris Butou Gaiden is a competitive take on the classic puzzle game, pitting the player against either the CPU or another human.
There are three different play styles to choose from, selectable from the options menu: Battlis mode is the default – this mode mixes crystals into the Tetrimino pieces (you can alter the frequency at which crystals appear in the options); clearing lines that contain crystals allow the player to use special skills that can either aid the player or hinder their opponent. Their are four possible skill levels, with each character having different effects for each one. Tetris mode is a basic versus mode, stripping out the crystal system and leaving just the ability to send your cleared lines over to your adversary. Rensa (chain) mode is the final option; in this mode any blocks above the lines you clear will fall until they hit another block below them.
In keeping with the competitive theme players in all modes share a single pool of Tetriminos, meaning that it is possible for a player to "snatch" a piece their opponent needs if they can get to it first, or even do the opposite and delay dropping a piece while they wait for the perfect fit.
Packaging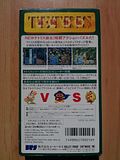 Screenshots