Original Title

テラ
ファンタスティカ

Format

Saturn

Genre

RPG

Developer

Chime

Official Website

Here
Chime are a small company that's done everything from SNES RPGs to anime books and prize machines. Their software catalogue may be small (their website only lists twelve titles), but when they include games like Dragon Force 2 and Napple Tale (Dreamcast) it shows they are obviously worth some attention.
As with a lot of SRPGs, this game has two distinct faces. The adventure segments progress the plot and also offer you the chance to learn more about the people and places you encounter if you wish (all interaction in these sections is done via a menu), as well as shape the relationship between the main character Dyne and the young prince Alexis, and subsequently the ending as well.
The battles quickly reveal themselves to be more than the usual grid-based fare; everyone has a limited field of vision, so while you can see the terrain ahead and the position of enemy units there's no way of telling what they are until you are within range. Also all actions are governed both by "elan" and action points, effecting both what you can do and how powerful your attacks will be. Also of note is that it is one of only a few games that really forces you to pay attention to positioning of troops – if a unit doesn't have a free square behind them when they enter battle they will be unable to retreat.
The distinct illustrations and character designs used in game are by Akihiro Yamada, who also worked on titles such as Mystic Ark (both SNES and PS1), RahXephon and Saiyuki:Journey West.
Packaging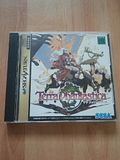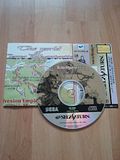 Screenshots