| | |
| --- | --- |
| Original Title | たねをまく鳥 |
| Format | WonderSwan |
| Genre | Puzzle |
| Developer | T.Suzuki |
| Official Website | Here |
Tane wo Maku Tori began life within the TV Asahi series "D's Garage21", before being released as a commercial WonderSwan game. An action-puzzle game, Tane wo Maku Tori stars a lonely crow who is determined to fill the towns and fields with flowers before his migratory friend returns from the south. This is done by channeling the drops of water that fall from the top of the screen through the connecting vines/bamboo/poles and onto the seeds at the bottom; as the game progresses enemies are added that can eat your water droplets or even your flowers and the connecting pipes become more complex.
The game has three modes – the main event is the story mode (complete with short intermission scenes) which has you progressing through increasingly difficult stages; survival mode sticks to a single stage that gets faster and faster and relies on you successfully growing flowers to replenish the timer, and lastly a link up versus mode against a fellow WonderSwan user.
Every copy of the game came with a small cardboard storybook. It's basically the same as the in game intro, just with some small layout changes and the odd dash of colour.
Packaging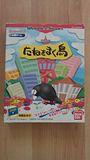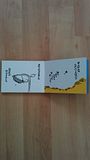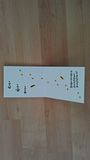 Screenshots