Original Title

すーぱー

ぐっすんおよよ 2

Format

Super Famicom

Genre

Puzzle

Developer

Banpresto

Official Website

N/A
The Gussun Oyoyo series was started by Irem in the arcades, this SNES exclusive title came three years later courtesy of Banpresto. The object of the game is to guide Gussun to the exit before he drowns/touches an enemy/is squashed/spiked.
Gussun is never controlled directly, he moves in a straight line until he hits a block; if it's one block high he'll climb it, if it's more he'll turn around and walk back the same way. The player controls the blocks (and occassionally bombs) that fall from the top of the stage, these are primarily used to build a safe path to the exit, but they can also interact with both Gussun and enemies - pushing them across the screen or simply squashing them flat.
This particular port features versus and puzzle modes in addition to the regular story mode. The main difference between story and puzzle mode is that puzzle mode gives you a set number of predetermined blocks to reach the exit, while in story mode the blocks are random and unlimited.
Packaging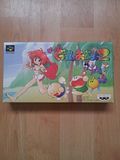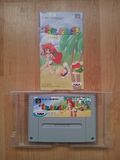 Screenshots