| | |
| --- | --- |
| Original Title | サムライ キッド |
| Format | Game Boy Color |
| Genre | Puzzle |
| Developer | Biox |
| Official Website | Here |
Samurai Kid is Biox's second puzzle-platformer, and shares many similarities with their previous effort "Daiku no Gensan: Kachikachi no Tonkachi ga Kachi" (the "Daiku no Gensan" series is known as "Hammerin' Harry" in the West).
The goal of the game is to make it through a series of levels filled with various switches, pressure pads, timers, moveable blocks and then defeat the boss at the end of each stage. You always have three items to hand that you can switch between at will to help you through; a gourd that turns enemies into blocks, a katana to break through walls, and lastly a fan that lures enemies towards you. Completion of a level earns you a rank based on the time taken, and as items gained from later levels unlock new paths in earlier ones you are encouraged to return to previous stages to improve your times.
Packaging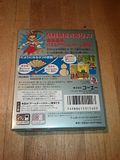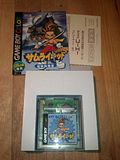 Screenshots