Original Title

サクラ大戦
花組通信

Format

Saturn

Genre

Misc.

Developer

CSK

Official Website

N/A
Hanagumi Tsuushin is a standalone fan/material disc for Sakura Taisen on the Saturn with optional MPEG video card support for enhanced video playback.
Using the same UI as the game and with Tsubaki as your guide, you are able to either peruse a digital newspaper or venture up to the second floor of the theatre and wander around.
The newspaper is more than just something to read through – clicking on various sections can bring up extended articles, photos and even video clips and quizzes. Ad space is even used to make the user aware of upcoming (for 1997) Sakura Taisen merchandise.
Accessing rooms on the second floor brings up further tidbits, including video interviews with the seiyuu and the credits (complete with obligatory song and artwork).
Packaging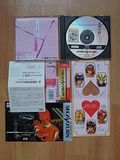 Screenshots