Original Title

ポップン
ミュージックGB
アニメーション
メロディ

Format

Game Boy
Color

Genre

Rhythm

Developer

KCEK

Official Website

N/A
Animation Melody is a port of the popular arcade and PS1 game of the same name, reworked for the GBC. The game contains twenty classic opening and ending themes culled from thirty years of anime, including the likes of Sailor Moon, Dragonball Z and Cutie Honey.
Some concessions had to be made for the GBC version; as the tunes are powered by the GBCs sound chip lyrics are only displayed across the bottom of the screen rather than sung and the animations are restricted to a window by the side of the play area. The lack of buttons on the GBC compared to the full arcade release also mean that five button difficulty is the maximum selectable. The game does however still offer arcade, versus (two linked GBCs) and survival modes, as well as the full range of difficulties and Pop-kun options.
These Pop-kun options have a variety of effects depending on the difficulty level chosen – on hard Pop-kuns (the coloured blobs that fall down the screen) can be set to random, hidden, mirrored or double speed. On "Excite" they are always random and further options for changes to their movement style and speed become available.
Hidden artwork is unlocked once certain conditions are met – these vary but may include maintaining a combo or scoring a certain amount of points by the end of the song.
Packaging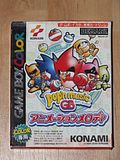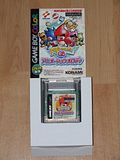 Screenshots