Original Title

ナイツ into dreams
ナイトピア・
ドリーム
パック

Format

Playstation 2

Genre

Action

Developer

Sonic Team

Official Website

Here
Released in 2008, twelve years after the game debuted on the Saturn, this PS2 release not only bundles the original game and (most of) Christmas NiGHTS onto one disc but also includes the option of playing them both with a significant graphical overhaul too.
The remake version improves the visuals in every area – previously 2D Pians and Marens are now full 3D objects, the draw distance is greatly enhanced, new effects have been added and everything is much more detailed than before. The FMV sequences have also been cleaned up and look much sharper than they used to.
If these updates feel unwelcome then the player can at any time select Sega Saturn mode from the main menu and play an exact copy of the original instead. Save files are identical across both the remake and the original version, so nothing is lost if the player decides to experiment or compare the two.
While most things were kept – Christmas NiGHTS still retains its time-sensitive easter eggs and extras such as the Nightopian viewer and picture galleries some things were lost. There is no two player mode on this PS2 pack, and the playable extras from Christmas NiGHTS (time attack, score attack and Sonic mode) are gone.
The Nightopia Pack below was a limited edition that included a reprint of a hardback storybook that was originally sold in very limited numbers when NiGHTS was first released on the Saturn. The game itself is identical between the standard and Nightopian editions, and has been made to resemble the Japanese Saturn packaging as closely as possible. A translation of the story book can be found
here
.
Packaging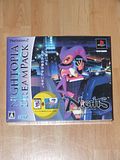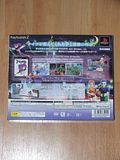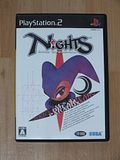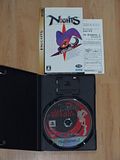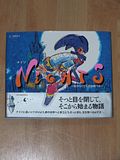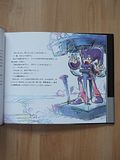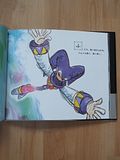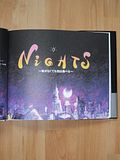 Screenshots