Original Title

ナムコ
スーパー
ウォーズ

Format

WonderSwan

Genre

RPG

Developer

Namco

Official Website

Here
Namco Super Wars is a fan service SRPG starring a mish-mash of Namco games. Characters come from a wide range of sources such as Legend of Valkyrie, Wonder Momo, Dig Dug, Mappy, Dragon Valour (the most recent game present) and Tower of Druaga. Each game brings with it its own locations, allies and enemies. The game does feature some unique characters; the main one being Chronos (renameable should you wish) who's been tasked with clearing up the mysterious havoc currently rampaging across the various Namco worlds.
The game plays out as a linear SRPG; there are no towns or overworld to wander in, just a linear progression from one battle to the next. Bar a few exceptions at the end each stage has a change to gain additional rewards if certain conditions are met – these are generally of the "Kill the enemy in <X> turns" variety. The reward can be anything from extra equipment to an additional battle, depending on the stage in question. Between stages the player is taken an intermission screen where they may level up characters (levels are gained by using expendable items rather than through a more traditional XP system), buy and sell items, or reequip their characters.
So long as it is the players turn they may move any character in any order until all characters have moved, attacked, or passed. Anything more than a basic attack consumes SP, which slowly regenerates as turns pass. When attacked both enemies and player characters have the option to block, attack, or use a skill (assuming range and SP costs are met) , which can both speed up battles and adds an extra layer of danger if an enemy isn't finished off.
Packaging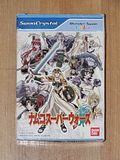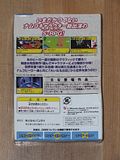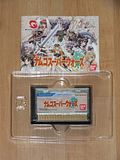 Screenshots