Original Title

モンスター
ハンター2

Format

Playstation 2

Genre

Action

Developer

Capcom

Official Website

Here
Monster Hunter 2 made a lot of significant additions to the already successful formula, expanding the idea in just about every way imaginable. The bow, gunlance, long sword and hunting horn weapon types all made their debut here, as did monsters like Kushala Daora, Yama Tsukami and Congalala. Recurring areas like Snowy Mountains and Volcano were also first introduced in Dos.
Dos also brought seasons and day/night cycles to the series; areas and the enemies within them change depending on the time of day and whether it's the hot, cold, or breeding season – some areas are completely off limits at certain times of year, forcing hunters to go questing elsewhere. The value of particular species fluctuates with these passing seasons too, hunters can earn extra zenny by keeping an eye on the wanted board and making a beeline for higher value targets.
Online was not ignored, and as with the previous two PS2 titles players were welcome to head on over to new town Dondurma for exclusive online hunts and multiplayer cooperative action. Dos also supported the first PSP Monster Hunter Portable, linking the two together would unlock a quest with the hidden wyvern Yian Garuruga.
Monster Hunter 2 is unfortunately a Japanese exclusive, however there is apparently a partial English translation patch floating around the web.
Packaging – Please mouseover for further info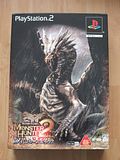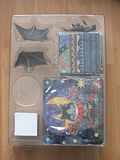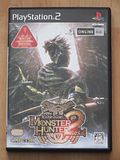 Screenshots