Original Title

ミラークルム
ザ ラスト
レベレーション

Format

PC-FX

Genre

RPG

Developer

RayForce

Official Website

Here
What at first looks like a traditional fantasy JRPG has a few neat twists to make it more than just another pretty PC-FX game.
The battle system holds a few surprises; there are three main modes to select from – "Normal mode", which is your standard RPG battle system; "Impact mode", which gives you real time control over attack power and critical chance by a small bar that appears before you strike; and "AI mode", for those who prefer something more automated.
Also, rain and snow will randomly fall whilst you're playing, and this weather will carry over into the battles and alter enemy strength and various parameters.
As is to be expected from a PC-FX game, the plot is told using a large amount of voiceover work and lovely full screen FMVs (the back of the box boasts 20 minutes worth). An additional dungeon called The Tower of Babel is unlocked once the game is completed, filled with extremely obtuse puzzles ranging from binary conversion to real-world trivia such as "How fast is mach speed?" and "How many bytes in a kilobyte?".
Packaging
Screenshots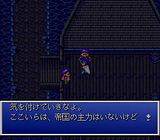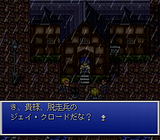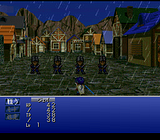 (NicoNico Account required to view – video tutorial
here
)