| | |
| --- | --- |
| Original Title | 마그나카르타 |
| Format | PC |
| Genre | RPG |
| Developer | Softmax |
| Official Website | Here |
Phantom of Avalanche is the Korea-and-PC-only start of the Magna Carta trilogy that migrated through to the PS2 (Tears of Blood) and finally the 360 (Magna Carta 2). The game centers around Calintz, experienced swordsman and new leader of 7th Squad as he and his friends are caught up in the middle of political machinations and an ever-growing monster problem.
Battles use a small real time element – timed spacebar presses can create combo attacks on your enemies. All actions in battle are governed by Turn Points that are expended either by moving or using skills; the range of your chosen skill is shown using a coloured ring around the selected character.
The Carta system is woven both into the plot and the gameplay of Phantom of Avalanche, the idea being that certain elemental influences are present in everything and these forces and be refined and channeled. In game this gives the player the option to assign Carta to characters as they see fit, with certain Carta suiting particular characters better.
The distinctive artwork and character design is by Hyung Tae Kim, who also worked on the rest of the Magna Carta series as well as The War of Genesis games for Softmax.
Packaging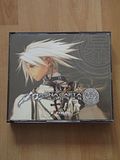 Screenshots