| | |
| --- | --- |
| Original Title | 魔導物語 I |
| Format | Mega Drive |
| Genre | RPG |
| Developer | Compile |
| Official Website | N/A |
Madou Monogatari started life originally on the MSX2, and actually predates Compile's far more well known Puyo Puyo series. This Mega Drive release also has the distinction of being the last official Japanese title to be brought out for Sega's 16bit console.
The "I" in the title refers to this game's place as a remake of chapter one of the original trilogy (released in full on the MSX2, PC98 and Game Gear). There is a story, featuring Arle and all her school friends undertaking an exam within a magical tower – however due to the number of remakes, ports, and staff changes over the years exactly what does and doesn't stick varies between each entry.
The game uses a basic dungeon crawler format, although everything is expressed visually (Arle's portrait is used to show her HP rather than more traditional numbers) and instead of simply selecting magic from a list it must be cast using dpad movements, much like the spell system used later in Symphony of the Night on PS1/Saturn.
Packaging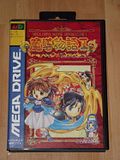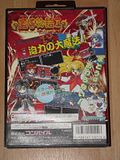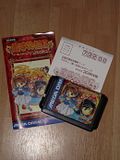 Screenshots