Original Title

LSD

Format

Playstation

Genre

Misc.

Developer

O.S.D./OutSide Directors

Official Website

Here
(Archived)
Guest post by sharc
Surely one of the most unusual games in the PlayStation's library, LSD bills itself as a Dream Emulator. Players are deposited into a genuinely surreal world, having to come to grips first with its confusing transitions and lack of navigation aids or obvious goals, and second the subtle changes in its landscape and inhabitants as time passes.

Exploration is done in first person, and starting from a simple modern apartment players may find themselves wandering into vast deserts, a dimly-lit waterfront district or an ancient Japanese village. Touching nearly any object - a bookcase, a throne, a parked car - creates a Link that then transports the player elsewhere. Each dream only lasts for so long, less if the player finds one of the few ways to die. Afterwards, the game places that "day" on a chart of Static versus Dynamic and Upper versus Downer axes. Like much of LSD, whatever mechanics govern chart placement resist attempts at deconstruction.

Though spearheaded by multimedia artist Osamu Sato, LSD is in every way a collaborative effort and has its beginnings in a decade-long dream journal kept by Hiroko Nishikawa. One of Sato's associates at OutSide Directors, Nishikawa both contributed the source material and helped convert it into the game's bizarre dreamscapes.

Along with the game LSD - here an acronym for Link Speed Dream - the project includes LSD & Remixes, an extended music CD, and Lovely Sweet Dream, an illustrated hard copy of Nishikawa's dream journal. Osamu Sato's extensive network of friends and peers provided artwork for the book and alternate covers for the game, as well as multiple remixes of the game's opening video and of Sato's original music. The game itself comes with a separate soundtrack, Lucy in the Sky with Dynamites, containing the tracks used in-game.
Of note is that LSD has two SKUs; a limited edition (SLPS-01556) and a regular edition (SLPS-01642). Though the assumed difference is whether or not the additional soundtrack CD is included, the limited edition is in fact the only one that ever seems to turn up. From Japanese fanpages to O.S.D.'s twitter, there is no definitive word on exactly what the difference between the two versions is. LSD's small print run makes it uncommon and expensive, but suffice it to say the "regular" edition must be a rarity among rarities.
Further Reading
-http://www.autofish.net/shrines/lsd/index.html
-http://seirei.ath.cx/rain/LSD/lsd.htm
-http://homepage3.nifty.com/rose_au_monde_club/LSD/index.htm
Packaging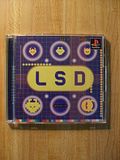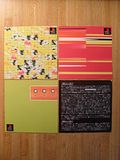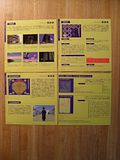 Screenshots