Original Title

ラプラスの魔

Format

PC Engine
(Super CD ROM)

Genre

RPG

Developer

Human

Official Website

N/A
Laplace no Ma is a horror themed dungeon crawler, originally created by Hummingbird Soft for a variety of Japanese computers (PC-88, PC-98, X68k and the MSX) and later ported to the PC Engine by Human and the Super Famicom by Vic-Tokai. While the SFC version deviates in some ways from the originals the PCE port is much more faithful and takes the opportunity to add redbook audio and speech to cutscenes.
Much like other dungeon crawlers of the era you are free (and expected) to create a full team of characters for yourself, with stat allocation unlocking job specialisations. One key difference is that you are free to leave the manor (provided you can make your own way out) and rest, purchase upgrades and talk to various characters dotted about the town.
The game was popular enough to spawn two sequels – "Paraclesus no Maken" (パラケルススの魔剣) on the PC-98 and "Kuroki Shi no Kamen" (黒き死の仮面) on the 3D0. Both maintain the unique Western horror atmosphere and first person dungeon crawling, but further info is sadly hard to come by.
Packaging
Screenshots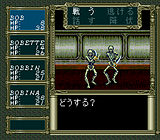 (NicoNico Account required to view – video tutorial here)