| | |
| --- | --- |
| Original Title | 風の探索者2-SHADOW KINGDOM |
| Format | PC |
| Genre | RPG |
| Developer | Gruppo One |
| Official Website | N/A |
Shadow Kingdom is the final entry in Gruppo One's "Kaze no Tansaku Sya" trilogy of isometric dungeon crawlers and also the final game from the short-lived studio themselves. Gruppo One was founded by a selection of classic ex-Falcom staff, including Katsumi Togashi (who's work included titles like Ys I, Ys II and Sorcerian) and illustrator Minako Iwasaki (Legend of Heroes III – V, Ys Eternal and more).
The full Gruppo One release list is:
風の探索者 -GRAND SLAM- (Aug 2000)

風の探索者 -大陸編- (Oct 2001)

Ding M · O · N · O ~ ~ (Aug 2002)

風の探索者2-SHADOW KINGDOM (July 2003)
The characters that make up your team of jobbing adventurers are created entirely by you, the only restriction on their abilities is the number skill points available. Character designs are purely down to personal preference – you are free to make that butch looking swordsman your delicate healer should you wish, and the shy scholar is just an initial stat allocation away from becoming your main tank. Anyone with a save file from Grand Slam may simply transfer their characters over to Shadow Kingdom, skills intact.
Dungeons are turn based (monster statues won't move unless you do) with an emphasis on exploration and procuring as much gold and equipment as possible. Battles occur when your party touches a monster statue (or vice versa) and take place on their own mini board. Battle commands are stacked up and then executed in sequence.
The package for Shadow Kingdom includes the OSTs for both Grand Slam and Shadow Kingdom (oddly not for Tairiku Hen) as well as an update disc for Grand Slam.
A playable demo of Shadow Kingdom can be found
here
(tested and working on Windows 7 64bit – just install!).
Packaging
Screenshots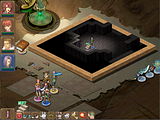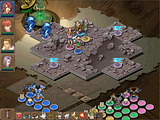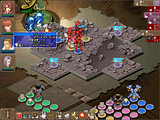 This video is actually for Grand Slam, but they are visually very similar and this is unfortunately the best I could do :/

(NicoNico Account required to view – video tutorial here)