| | |
| --- | --- |
| Original Title | JELLYFISH The Healing Friend |
| Format | Playstation |
| Genre | Misc. |
| Developer | Visit |
| Official Website | N/A |
This one-off game by Visit has you charged with taking care of a pet jellyfish accompanied by some chill out music, the aim being that the player is relaxed by the experience.
The game has something of a story mode framing the simulation; as you start the game you choose one of three scenarios – a young couple, a small boy, and a single woman. These sections occasionally have some interactivity, however they are generally illustrations with some basic animation.
Caring for your jellyfish involves cleaning the tank, regulating the water temperature and feeding them one of two foods. If you take poor care of them they will swim further away from the player, however you are given daily advice if you find yourself struggling with jellyfish care. It is possible to neglect them to the point of death, so advice given shouldn't be ignored for too long.
Packaging
Screenshots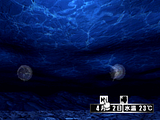 (NicoNico Account required to view – video tutorial here)