Original Title

ガーディアン
ヒロインズ FINAL

Format

PC

Genre

Action

Developer

Rapid Fire

Official Website

Here
This Guardian Heroes homage is an expanded version of the same doujin circle's previous work (simply titled "Guardian Heroines") and stars a whole host of characters drawn from various gaming sources such as Fate/Stay Night, Kanon, Tsukihime and more.
The game plays as a manic side scrolling beat 'em up, with all action being restricted to either a foreground or background plane (a simplification of Guardian Heroes' three line system). Characters have two basic attack buttons, a magic attack and the ability to guard and dash. Combos and special moves are available and encouraged :)
Versus mode can handle up to eight human or CPU controlled opponents from any of the vast selection of unlockable characters, and also allows you to customise teams and character levels.
Rapid Fire generously included three of their previous titles on the same disc – the original Guardian Heroines, Spartan XX, and Seitoushi Hana Oto.
A playable demo of Guardian Heroines FINAL can be found
here
.
Packaging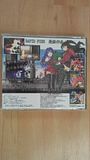 Screenshots