Original Title

ゲッツェンディーナー

Format

PC Engine
(SUPER CD ROM)

Genre

Adventure

Developer

Gainax

Official Website

N/A
Götzendiener starts off with a young princess named Kisyu Lim Misa captured by demons and shortly afterwards a band of muscular heroes make their way to the demon king's castle to rescue her. However this cliché is quickly dispensed of as both the hero and the demon deal each other a fatal blow and Misa is left with no other choice but to pick up her would-be rescuers sword and make her own way to freedom.
Misa is capable of picking up various weapons and objects left lying about as well as pushing/pulling heavier ones. She has two different spells at her disposal; the first can enhance nearby candles and torches, turning simple light sources into a fire capable of burning down doors; the second allow her to reanimate the corpses of fallen enemies into a submissive ally.
The game is presented as a single continuous environment rather than a series of levels, and they a layered in such a way that it is possible to drop objects (and Misa!) down holes onto a lower floor.
A novelisation titled 不屈の女神 ゲッツェンディーナー as well as an arranged OST were released to compliment the game.
Packaging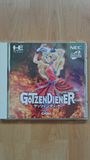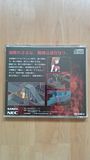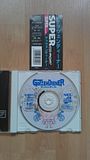 Screenshots