| | |
| --- | --- |
| Original Title | GIGANTIC ARMY |
| Format | PC (Doujin) |
| Genre | Action |
| Developer | Astro Port |
| Official Website | Here |
Gigantic Army is a sequel to Armed Seven, and both are homages to NCS's "Assault Suits" series of side-scrolling mech action games.
Upon starting the game you are given the option of independently selecting a primary and special weapon (both are one from a choice of three) to battle through the game with. These include spread shots to grenade launchers and a barrage of homing missiles, allowing you to customise the shot type to your preferences. Controls and available moves are very similar to the Assault Suits games – your mech can dash, jump, shield itself and fire in any direction. Weapons can be powered up by collecting icons hidden throughout the stage, and the level timer can be extended in the same way.
The game features several difficulty levels, some of which need to be unlocked. As continues are limited (and using one restarts the level) the game has a practise mode, allowing you to try any stage reached on any available difficulty. Replays can also be saved should you feel you've done a particularly impressive run.
A playable demo can be downloaded from
here
.
Packaging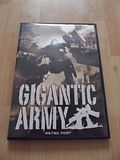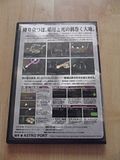 Screenshots