| | |
| --- | --- |
| Original Title | ジェノサイド 2 |
| Format | X68000 |
| Genre | Action |
| Developer | Zoom |
| Official Website | N/A |
Like it's predecessor, Genocide 2 puts you in charge of a giant mech armed with nothing more than a sword and some support items then charges you with destroying an entire army single handed. This game was later ported to the FM-Towns as part of a double pack called Genocide Squared (with some small touch-ups and a new intro) and also the Super Famicom. While the Super Famicom game is based on this original version it's heavily altered and is not representative of the X68k game.
The game spans six distinct stages, taking in everything from futuristic city streets and aircraft carriers to lava filled caves. Stages require a mixture of platforming and beat 'em ups skills to progress, and particular enemies must be located and destroyed before the player is allowed to move on. Each stage is split into three areas, and at the end of each your completion time and the number of enemies killed is shown.
Genocide 2 is available on the Project EGG digital distribution service
here
. Zoom are still around and working in videogames, you can check on their latest projects
here
.
Packaging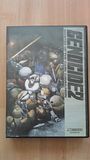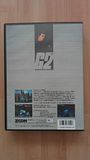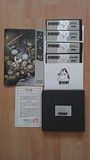 Screenshots