Original Title

フェーダ2
~ホワイト=
サージ ザ・
プラトゥーン~

Format

Playstation

Genre

RPG

Developer

Max
Entertainment

Official Website

N/A
FEDA 2 is set eight years after the end of the original SNES SRPG, and follows a (mostly) new band of characters within the same world. Any similarities to Shining Force are intentional – Yoshitaka Tamaki was the character designer for both and he directed FEDA.


Where this game differentiates itself from both Shining Force and the original FEDA is in its execution; FEDA 2 has no town sections to wander around in between battles, they've been replaced by a point-and-click camp screen instead. From here you can do everything you would expect to – items can be equipped, team members spoken to and so on. Thematically FEDA 2 is still quite unique; while the game has an strong fantasy bent it's played completely straight. The "White Surge" platoon is made up of experienced soldiers, not a fresh-faced teenager in sight.


FEDA 2 retains the mission system of the first game, meaning that rather than simply wiping out everything that moves you are given specific tasks to perform and how closely you follow these orders effects the XP and item bonuses you receive at the end of each map.


The game has also been "blessed" with an FMV intro using American actors badly dubbed into Japanese. You may be interested to know that the actor playing Harvey (pictured below) is David Hayter, better known for his VA work as Solid Snake.
Packaging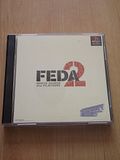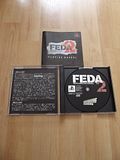 Screenshots