| | |
| --- | --- |
| Original Title | アイシア |
| Format | Playstation |
| Genre | RPG |
| Developer | TamTam |
| Official Website | Here |
RPG with a heavy Japan-style adventure game bent, as a lot of emphasis is placed on dialogue and the reactions you choose to your fellow (mostly female) party members both in and out of battle.
The character designer for this game was Nanase Mamoru, credited with working on Asuka 120%, Zwei!!, the ANGEL/DUST manga and the Samurai Spirits 2 OVA. The game makes frequent use of traditional 2D art and backgrounds in her style.
A limited edition was also produced for this game, containing a small hardback artbook, a telephone card, a desk clock and some sort of charm.
Battles in this game are turn based but take place in an arena rather than having everyone lined up, and attacks use a gridless range system (think something along the lines of Phantom Brave targeting circles). Battle formations can also be used, enhancing defense depending on the situation.
Packaging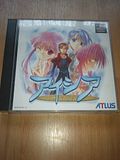 Screenshots