| | |
| --- | --- |
| Original Title | 던전스 앤 드래곤즈 II |
| Format | PC |
| Genre | Action |
| Developer | MCB Interactive |
| Official Website | N/A |
This obscure and as far as I've ever been able to tell officially licensed Korea-only PC release was until very recently the only truly arcade perfect home version of Shadow over Mystara, the reason being that it's actually the original arcade ROMs and an emulator repackaged for PC. If that sets your "bootleg alert" alarm bells ringing it's worth mentioning at this point that other legitimate arcade collections also contain MAME-compatible ROMs, Taito Legends being one example.


Other than that there's not a lot else to say; the emulator is competent if basic, and natively supports up to three players with various key config options. It also checks your system locale on bootup and loads up either the European or Japanese version of the game depending on where you say you are.
Packaging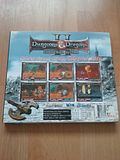 Screenshots