Original Title

ダンジョン・
マスター
ネクサス

Format

Saturn

Genre

RPG

Developer

Victor

Official Website

N/A
Dungeon Master Nexus is the final entry in the multi award winning RPG series; it only saw release in Japan and was created by a team at Victor, many of whom had previously worked on the Super Famicom port of Dungeon Master released in 1991.
The major change in Nexus is that the dungeon and all enemies are rendered in full polygonal 3D and your party are no longer restricted to grid based movement but may move freely, including limited up/down camera panning. The analogue pad is supported but the Saturn mouse is not.
Other options unique to this release are an easy mode that reduces monster strength and general game difficulty (the manual is not specific and I haven't played enough to elaborate further) and the ability to see the attacking monsters HP. Both of these options are accessed from the title screen.
The game once again casts you in the role of Theron, pupil of the Grey Lord sent to rescue his master who has been imprisoned in the Anaias mountains. Theron however is attacked and finds himself (again) deceased and acting as a spirit guide for a team of four champions out of a choice of twenty. The champions are a mixture of both old and new, with famous faces like Gothmog, Azizi and Alex making a return. As with previous Dungeon Master games these characters may be resurrected or reincarnated, giving you either a pre-set team or a blank slate on which to create your own.
There are a total of fifteen floors in the dungeon filled with riddles, traps, and some familiar foes. Basic attacking has been streamlined and can even be automated if desired, and while the spell select menu is presented differently it adheres to the rune system used in previous games and certain old spells and potions are cast in exactly the same way as they used to be.
Packaging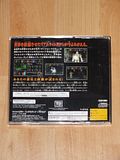 Screenshots