Original Title

ドンドコドン

Format

PC Engine
(HUcard)

Genre

Platformer

Developer

Taito

Official Website

N/A
Until the release of the Taito Legends/Memories collections on PS2, Xbox and PC this PC Engine port of DonDokoDon was as close to the arcade experience as was available, missing only the sprite scaling and rotation effects of the original.
The game takes place across 101 levels, 50 in the standard game and a further 51 hidden "Reverse Rounds", with a boss on every tenth level. These can be played either alone or simultaneously with another player.
Some levels have unique features – warps, rolling boulders, moving floors and the like. Enemies also come in various shapes and sizes, some continually spawning smaller enemies or firing projectiles across the screen. Enemies are generally defeated by first whacking them over the head with your hammer and then picking them up and throwing them against the scenery or other enemies.
Items play an important role, reflected by the power bar at the bottom of the screen. Potions appear that can increase this bar by varying amounts, the more complete the bar is the further enemies can be thrown – even through walls! Other items act as speed boosts, "smart bombs", and a poisoned spotted apple that will reduce your power bar by one point.
DonDokoDon received a Famicom only sequel (which is actually more of a straight platformer) and Jim and Bob had cameo roles in three other Taito games – Space Invaders DX, Bubble Symphony and Pop'n Pop.
Packaging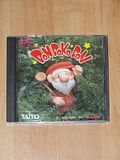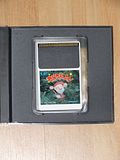 Screenshots