Original Title

디제이맥스
트릴로지

Format

PC

Genre

Rhythm

Developer

Pentavision

Official Website

Here
DJ Max Trilogy is a compilation of tracks culled from past (and via updates, present) DJ Max games with a few exclusives thrown in for good measure. Much like Beatmania, the aim is to produce music by hitting the bars falling down the screen at the correct time, with score being based on accuracy, combo chains and use of the "Fever" multiplier. Anything from four to eight key modes can be selected, although the final two aren't available from the beginning.
There are four main modes to choose from – Stage Mode is essentially the stock arcade-style mode, where you have to choose one from a short selection of tracks to play, ending with a secret bonus track. Mission Mode gives you a set playlist to work through sequentially with a particular goal in mind, perhaps to beat a specific score or maintain a certain accuracy. Free Mode allows you to play any song you have previously unlocked. Lastly there's Network Mode, a one-on-one online battle with up to six spectators.
The game features an extensive virtual shop where you can spend the gold accrued during play. Items range from the practical, such as new songs and gameplay speeds, to the cosmetic – a choice of "gears" (play area themes) and different bars.
There was a limited first-print release as well as the standard edition – both include the two disc soundtrack featuring both songs found in game as well as numerous remixes.
A specialist official controller was made available separately for the real "arcade at home" experience – as with the game itself this also had a limited edition featuring a slew of extra goodies.
Packaging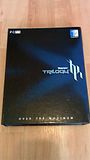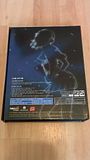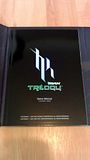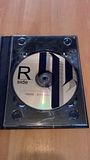 Screenshots