| | |
| --- | --- |
| Original Title | 出たな!! ツインビー |
| Format | X68000 |
| Genre | Shmup |
| Developer | Konami |
| Official Website | N/A |
Detana!! Twinbee is a nigh-on perfect port of the arcade title of the same name. For anyone that doesn't know, Detana!! is a vertical scrolling shmup by Konami, and the second game in the Twinbee series that eventually diversified into puzzle games, drama CDs and even a PS1 RPG.
As is to be expected from an arcade port the options available are rather limited – the config menu allows you to alter the difficulty level (including a "Very easy" mode that's not in the coin op version) and the number of lives per continue as well as choose from one of a few key configurations and listen to the music from the game.
The game retains the arcade games second loop which increases the number of enemies and bullets thrown at you as well as changing the stage colour palette.
Packaging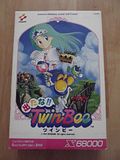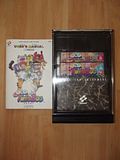 Screenshots