Original Title

クリムゾン
クローバー

Format

PC

Genre

Shmup

Developer

Yotsubane

Official Website

Here
(Author's blog)
Crimzon Clover is the debut game by one-man doujin author Yotsubane, and took him five years to develop. The game is a vertically scrolling shmup with five stages and two secret final bosses (often referred as "True Last Bosses" or abbreviated to "TLB").
There are three different play modes titled "Simple", "Original" and "Unlimited"; rather than simply throwing more enemies at you each mode has different scoring mechanics and different uses of the Break gauge, meaning each mode requires entirely different tactics if you want a high score. The game also features three ships (initially only one is selectable) which all share the same basic shot/lock on functions but are balanced differently.
An extensive in game shop offers a wide variety of things for sale – everything from extra credits and the chance to practise a particular stage or boss to simple conveniences like the ability to skip the opening cutscene or listen to music in the sound test menu.
A playable trial version can be downloaded from
here
, and you can read a translated interview with the creator
here
.
Packaging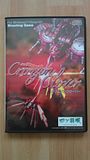 Screenshots