| | |
| --- | --- |
| Original Title | コットン |
| Format | X68000 |
| Genre | Shmup |
| Developer | Success |
| Official Website | N/A |
Cotton on the X68000 is more than a simple port, this version exclusively features enhanced graphics and a rather nice gameplay tweak that gets rid of the arcade versions insistence of restarting a stage if you use two continues on the same level. The most obvious improvement to the graphics are the large translucent clouds and additional parallax scrolling on the water in the opening of the first level, in the arcade version the clouds are both smaller in size and solid, and the water is flat. If you take the time to compare screenshots between the X68000 and arcade versions it also becomes apparent that this port features an expanded colour palette too.
There's a nice options menu in there too that allows you to set the number of lives per continue, select from one of five difficulty settings (one more than the arcade) and customise the shot/bomb buttons to your preferences.
One further bonus touch that will only be seen by people using a real X68000 is this – the LEDs on the keyboard light up in time to the music in game.
Packaging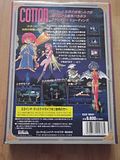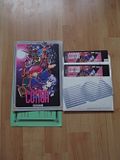 Screenshots