| | |
| --- | --- |
| Original Title | ぼくのなつやすみ |
| Format | Playstation |
| Genre | Adventure |
| Developer | Millennium Kitchen |
| Official Website | Here |
There's only one true goal in this game – to have a fantastic summer holiday in 1970s Japan. You play as Boku, a small boy sent to live with his uncles family for the summer of '75 while his father takes care of his pregnant mother. Boku also serves another purpose – as well as being a young boys name "boku" is also Japanese for "I" or "me", creating an intentional link with the player – it's meant to be a nostalgic trip through your own childhood holidays too.
The only things you are forced to do in the time you are given is to eat breakfast and dinner with your uncles family and go to bed – whatever else does or doesn't happen is left up to the player. You're completely free to spend your time catching bugs, fishing, or simple wandering around the beautiful hand painted landscapes created for the game. Because of this freedom it's possible to miss certain events entirely, making each playthrough unique.
Packaging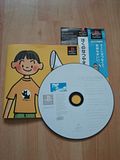 Screenshots