Original Title

3X3EYES
三只眼變成

Format

PC Engine
(Super CD ROM)

Genre

Adventure

Developer

Nihon Create

Official Website

N/A
Originally for the PC-98 and later ported to FM-Towns, this PC Engine version of Sanjiyan Henjou is nigh-on identical to the computer releases bar some slight censorship and the addition of exceptionally well animated cutscenes, which are further enhanced if the game is played with an Arcade Card in the system (video comparison
here
).
Although it's officially a 3x3 Eyes game Pai and Yakumo are sidelined in favour of Kenichi Yamamoto, a high school student who spends the game trying to overcome an unfortunate demonic problem. Things start out reasonably ordinary but before long ski trips turn bloody, strange masked men are chasing him through the streets of Iran and he's fending off undead skeletons in an underground labyrinth.
The game is played using the typical Japanese adventure game commands – look/move/talk, etc; as conversations progress new options open up and the plot carries on. The labyrinth portion of the game is navigated in a manner similar to a first person dungeon crawler and apart from the random skeletons can be freely explored. The game is mostly linear but there are some choices to be made that effect certain events, and the game has three possible endings as well as a few "bad end" situations.
The VHS included in this pack is a short promo video for the game.
Kenichi reappears in the PC/Playstation game 3x3 Eyes: Tenrinou Genmu.
Packaging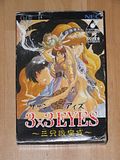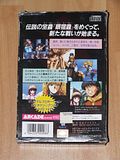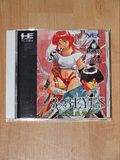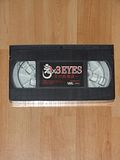 Screenshots